My buddy Steve and I took a trip to Dobbs Ferry, NY. Dobbs Ferry is about 30 minutes outside of Manhattan......well more like 2 hours outside of Manhattan with NY rush hour traffic. We drove 8 hours, through 5 states, and through a torrential down pour all to see Joe McNally. Was it worth it? ABSOLUTELY!


Anybody that knows anything about photography, more specifically lighting, knows who Joe McNally is. I saw Joe in action a few months ago in Boston at Photoshop World. I was impressed enough to buy his latest book "The Hot Shoe Diaries." The whole title is actually "The Hot Shoe Diaries: Big Light from Small Flashes." As you might guess the book is about getting the most out of small speedlights. The images in the book are just breathtaking. I also decided to buy his first book "The Moment it Clicks." Another display of imagination, creativity, and inginuity.

When Joe annouced that he was conducting a lighting workshop, I immediately made plans to go and I am so glad that I did. Steve and I arrived at a large white building that Joe rents as studio space but is also used as a warehouse. There were about 16 students there and about 9 or 10 of Joe's staff/friends. We were served a light breakfast with coffee. Joe started out by introducing himself and his friends and the students also made brief introductions. There were actually more than one Canon users :) Joe actually was thoughtful enough to bring in Syl Arena from pixsylated.com . Syl is commercial shooter from Cali who also is an expert with Canon gear.

After intros and a quick inspirational slideshow, we immediately starting absorbing the knowledge Joe was dropping. What I loved about Joe's approach to teaching is he does not come across as a "know it all." He's been shooting and lighting for probably longer than I've been alive but he'll be the first to tell you that light can have a life of its own and often time it's unpredictable. Joe never talked about precise formulas, ratios, or even used a light meter. His approach was more of "Let's try this and see what happens." More often than not, the lighting was spot on but there were a few times where it was way off. Joe explained that stuff like this happens and explained how to troubleshoot your way back to good lighting. He often started out with one light and one modifier and slowly built up to more lights and more modifiers until a masterpiece was made. Throughout that process, we ran into real world issues and learned how to stay calm and work ourselves through them.

Not only did we work with small speedlights, we also worked with big studio strobes with ocatboxes as large as the spot on Jupiter. Seeing Joe's plethora of gear was like browsing through the studio section of B&H (actually more like Adorama in Joe's case) We all got a chance to shoot several different lighting schemes with a different model at each station. He then broke us up into groups and allowed us to pick a model and a location to shoot at. This is where Syl was extremely helpful. He was able to answer Canon specific questions. Before I forget, I must apologize to him again. I nearly blinded him by accidently popping three 580EX IIs off at point blank range. Sorry Syl.

All in all, the experience was great. Joe impressed me in more ways than one. He was knowledgable, humble, nice, and funny. He memorized all 16 of the students' names. His staff and friends were all great. Just a tremendous pleasure to work with. The models were great too. Almost forgot. The food was home made and it was delicious. No cold cuts and stale bread. We had eggplant parmesian, chicken and veggie stir fry, rice and beans, salad, and dessert.

Here is a shot of a model I took. Her name is Bethany and she was extremely nice to work with. I used three of my 580EX IIs bare bulb with a 3/4 CTO on each of them.



Here is a shot of Joe at work:





Oh, almost forgot. I've found a way to set off 3 speedlights with one Pocket Wizard. I bought 2 of Lastolite's Triflashes.



I thought it was a pain to connect 3 Pocket Wizards to each of the speedlights. I found a Y adapter at Radioshack that allowed me to connect 2 speedlights to one Pocket Wizard but I still needed another Pocket Wizard for the 3rd speedlight. After doing a lot of searching online, I found this from Belkin: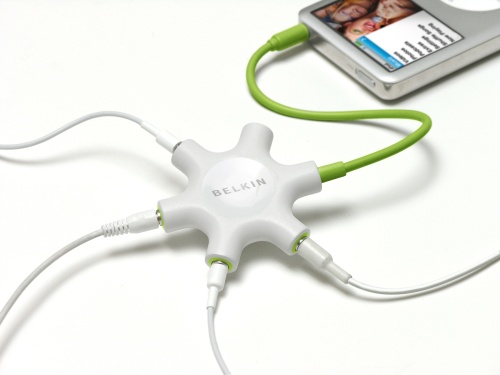 It allows me to connect up to 4 speedlights to 1 Pocket Wizard.

Here's my setup:



Does it work? Absolutely!